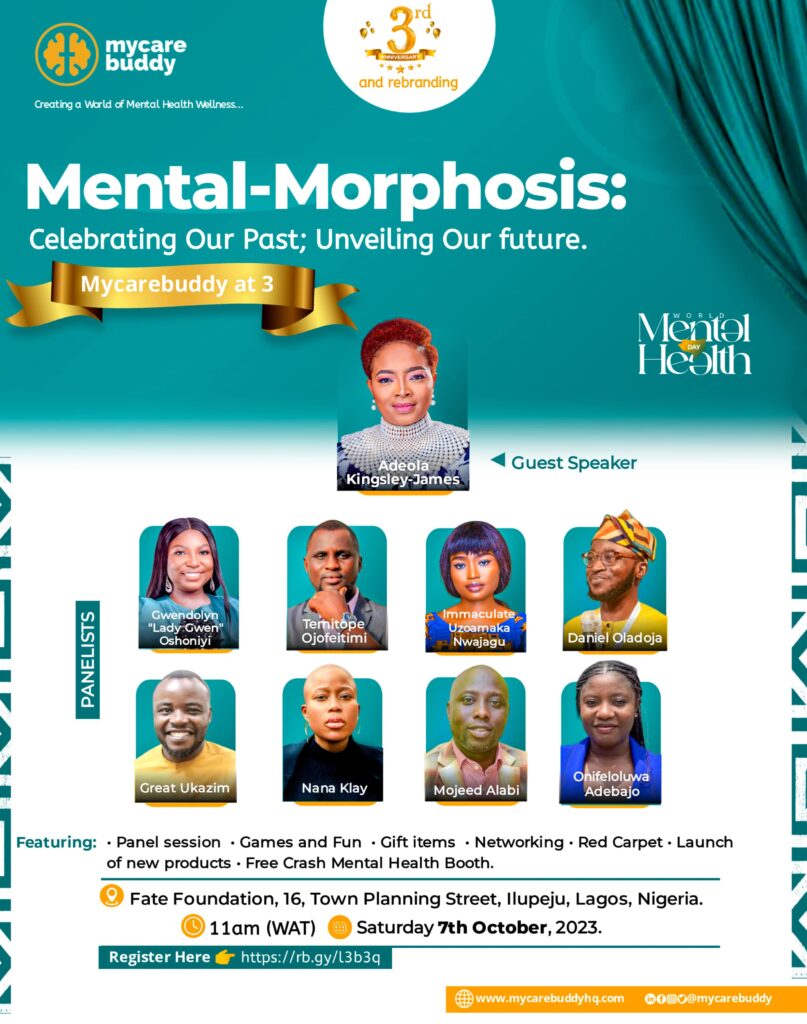 Mycarebuddy, a distinguished mental health organization based in Nigeria, is thrilled to extend a warm invitation to everyone as we commemorate our remarkable journey of three years in the service of mental health care. Our upcoming event, the Mycarebuddy 3rd Anniversary and Rebrand Event, promises significance, innovation, and collective empowerment.
At Mycarebuddy, our mission is to provide professional therapy services that facilitate well-being, personal growth, and an improved quality of life for individuals. We are deeply committed to addressing the mental health challenges people face due to a myriad of factors, such as childhood trauma, societal pressures, and personal struggles. Our dedication extends to equipping employees and individuals with the knowledge and tools necessary to navigate the complex landscape of mental well-being.
Over the years, Mycarebuddy has emerged as a pioneer in the field of mental health care in Nigeria. We have conducted numerous awareness campaigns, educational programs, conferences, and support initiatives to tackle the pressing mental health issues. Our organization is driven by the pursuit of improved mental health outcomes and the reduction of stigma in society.
Event Details:
Date: October 7th, 2023

Time: 11:00 AM

Location: Fate Foundation 16, Town Planning Street Ilupeju, Lagos, Nigeria
Highlights of the Mycarebuddy 3rd Anniversary and Rebrand Event include:
Launch of Our New Website and Logo: Be among the first to explore our revamped online presence, designed to serve our community and clients better.

Introduction of New Products: Discover the innovative solutions and resources that Mycarebuddy will offer in mental health.

Expert Discussions: Engage with a diverse panel of mental health professionals, researchers, and advocates as they delve into the latest trends and challenges in the field.

Keynote Speaker: We are honoured to host a renowned keynote speaker who will inspire and enlighten us with their insights.

Networking Opportunities: Connect with decision-makers from various industries, including founders, Human Resources managers, and other professionals.
Our event will feature expert panel discussions, informative sessions, and invaluable networking opportunities. We believe that by bringing together individuals and organizations from all sectors, we can collectively positively impact mental health awareness, education, and support, thereby fostering a healthier and more compassionate society.
For further information and inquiries about the Mycarebuddy 3rd Anniversary and Rebrand Event, please get in touch with Ebere Okonkwo at ebymary.okonkwo@gmail.com or via phone at +2348142441819.
Join us as we celebrate three years of dedicated service to mental health and embark on an exciting new chapter in our journey towards promoting mental well-being, personal growth, and a better quality of life.
Together, we can make a difference.
Yours sincerely,
EBERE OKONKWO
About Mycarebuddy: Mycarebuddy is a leading mental health therapy start-up based in Nigeria, serving individuals across different communities. Our organization is dedicated to addressing mental health challenges and reducing stigma through professional therapy services and comprehensive mental wellness training programs. Click here Learn more about mycarebuddy